Costa Luminosa - Italy, France, Spain, Morocco, Canary Islands, Brazil, Argentina, Uruguay & Chile
Civitavecchia, Marseilles, Barcelona, Casablanca, St. Cruz de Tenerife, Recife, Rio de Janeiro, Buenos Aires ,Montevideo, Puerto Madryn, Ushuaia, Puerto Williams, Punta Arenas, Puerto Chacabuco, Puerto Montt & San Antonio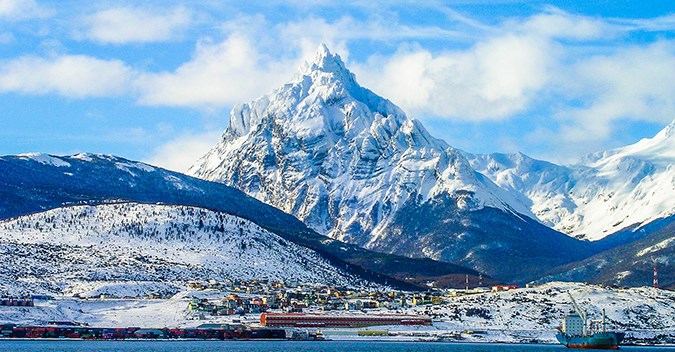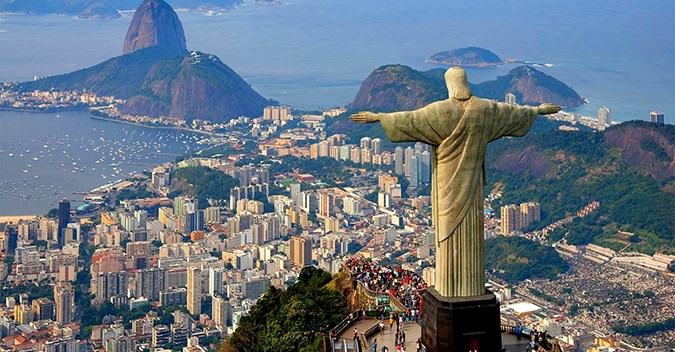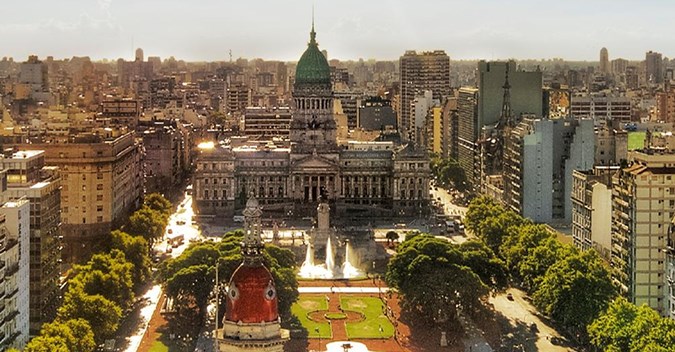 Highlights
The opportunity to book only 35 nights cruise, from Italy to Chile, a segment of 109 nights World Cruise. 
The Mediterranean offers an amazing combination of beaches, history and lively culture. 
A cruise is a perfect way to explore South America and access this off-the-beaten path continent. 
Experience for 2 days, the last point of civilization before the frozen stretches of Antarctica take hold, the city of Ushuaia in Argentine. Don't miss seeing the beautiful landscapes and national parks of Southern Patagonia.
Easiest and the most convenient way to explore the beauty and diversity of 5 different cities in Chile.
Day 1

Civitavecchia (Italy)

-

22:00
Day 3

Marseilles (France)

07:00

18:00
Day 4

Barcelona (Spain)

08:00

18:00
Day 6

Casablanca (Morocco)

08:00

23:00
Day 8

St. Cruz de Tenerife
(Canary Islands)

08:00

18:00
Days 9, 10, 11, 12 & 13

Cruising (5 days)

-

-
Day 14

Recife (Brazil)

08:00

18:00
Days 15 & 16

Cruising (2 days)

-

-
Day 17

Rio de Janeiro (Brazil)

13:00

-
Days 18

Rio de Janeiro (Brazil)

-

17:00
Day 19

Cruising (2 days)

-

-
Days 20

Buenos Aires (Argentina)

09:00

19:00
Day 21

Montevideo (Uruguay)

08:00

17:00
Days 24 & 25

Cruising (2 days)

-

-
Day 26

Ushuaia (Argentina)

08:00

-
Day 27

Ushuaia (Argentina)

-

16:00
Day 28

Puerto Williams (Chile)

18:00

19:00
Day 30

Punta Arenas (Chile)

08:00

19:00
Days 31 & 32

Cruising (2 days)

-

-
Day 33

Puerto Chacabuco (Chile)

08:00

16:00
Day 34

Puerto Montt (Chile)

09:00

13:00
Day 36

San Antonio (Santiago)
Chile

08:00

-
STARTING PRICE

$4367 or €3639

DURATION

DEPARTURE DATES

EMBARKATION PORTS

Civitavecchia
Marseilles
Barcelona
Venice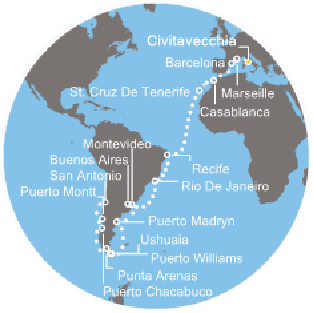 Send Your Request