Nantes, St Nazaire, Ancenis, Angers, The Castles Of The Loire, Saumur, Bouchemaine, Ancenis & Nantes
Day 1: NantesBoarding in Nantes between 6:00 and 7:00 p.m. Crew presentation and welcome drink.
Day 2: Saint-Nazaire - NantesOptional excursions proposed :
CLASSIC : tour of Saint Nazaire, a town on the sea. Visit of Escal'Atlantic and the Saint Nazaire shipyard, one of the largest shipyards in Europe. (This excursion must be pre-booked in advance through your travel agent. Each passenger will be asked to produce a valid passport or identity card in order to gain access to the shipyard).
Or
CLASSIC : Guided visit of Guérande, a fortified medieval city entirely enclosed by ramparts. And discovery of the process of harvesting Guérande salt, the undeniable symbol of the region and how the marshes work.
DISCOVERY : Hiking in Guérande. Take a hike through the medieval city of Guérande and its salt marshes.
Afternoon spent cruising to Nantes. In the evening, optional cruise on what King Francois Ist called the "most beautiful river in France": The Erdre.
Day 3: Nantes - AncenisOptional excursions proposed :
CLASSIC : guided visit of Nantes and the Castle of the Dukes of Brittany.
DISCOVERY : Nantes, the machines de l'ile, secret courtyards and covered passageways.
Evening of entertainment.
Day 4: Ancenis - BouchemaineOptional excursions proposed :
CLASSIC : the Muscadet Wine Route and Clisson, a charming medieval town.
DISCOVERY : Helicopter ride, the Loire from above. Leaving from Ancenis, experience an unforgettable flight over the Loire River. The cruise continues to Bouchemaine. Evening of entertainment provided by the crew.
Day 5: AngersOptional excursions proposed :
CLASSIC : visit of the town of Angers, capital of the Anjou region. You will visit the fortress from the 13th century and see the Apocalypse tapestry, which is the most important set of medieval tapestries still in existence in the world today.
DISCOVERY : visit of Chateau de Brissac and the castle cellars with a wine tasting.
In the afternoon, optional excursion common for both packages : Guided visit of Saumur and the Cadre Noir(2), which is on the Representative List of the Intangible Cultural Heritage of Humanity and visit of the fortified city of Saumur.
Evening of music and dancing.
DAY 6: Bouchemaine - The Loire ChateauxOptional excursion common for both packages :
The day is spent on an excursion to visit the Castles of the Loire Valley.
Entertainment on board.
Day 7: Bouchemaine - Ancenis - NantesOptional excursions proposed :
CLASSIC : excursion along the Angevine Corniche, with pretty little villages and many viewing points along the Loire.
DISCOVERY : Biking along the Loire. Enjoy a scenic bike trip along the Maine and Loire Rivers including charming typical villages.
This afternoon is spent cruising the Loire. Gala dinner on board followed by an evening of music and dancing.
Day 8: NantesDisembark around 10.00 am. End of our journey.
STARTING PRICE

$2075 or €1729

DURATION

7 nights

DEPARTURE DATES

13 & 25 April 2018
07 & 31 May 2018
24 June 2018
01 & 23 July 2018
28 September 2018
10 & 22 October 2018

 

EMBARKATION PORTS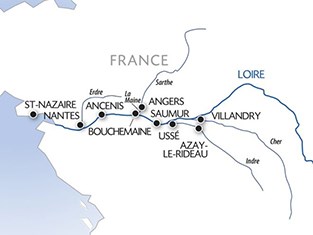 Send Your Request